Aztec's Treasure Feature Guarantee Slots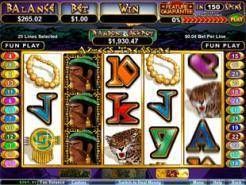 Current Jackpot
$2,165.67
Play Now
Aztec's Treasure makes its mark in the annals of Real-Time Gaming mastery, and rightfully so. Aztec's Treasure Feature Guarantee plays off Aztec's Treasure, one of the original progressive jackpot games that put Real-Time Gaming on the map.
The Treasures Are Real
Aztec's Treasure Feature Guarantee breaks down to a five-reel game with the same endearing twenty-five pay lines as the original game. The breakdown and the theme are identical. The Feature Guarantee version envelopes you on the same rewarding and glaring backdrop where you get to celebrate the illustrious and rewarding history of the vaulted Aztec Empire.
The Feature Guarantee version gives you the same options to control the pay lines with the pay line arrow system. You can reach for the stars and try to win the impressive jackpot in one swing, or you can dial things back and wager on lesser pay lines. The next order of business is realizing your cash bet, but this is a straightforward process through Aztec's Treasure Feature Guarantee's coin button system. This makes this a snap to handle these features. Aztec's Treasure Feature Guarantee comes with an autoplay feature. The autoplay feature is cool enough and sophisticated enough to arrange bets by the score. You can still manage to record your chances through the manual spin mode. The choice is totally yours.
Bring On The Paytable
Aztec's Treasure steps up to the gaming plate with a bounty of the original game characters. We start off the traditional Aztec affair by highlighting the Aztec Princess that catches on fire as the wild symbol once again. A single wild character doubles winning combinations, and if you get an entire row of her on the reels, you will snag the top amount of 5,000 credits for your efforts. The cheetah roars to life with 2,500 credits, while the feather hat rises to the occasion with 1,000 credits. The other rewarding Aztec's Treasures symbols include the golden bracelet with the high-value playing cards. The Aztec King still dominates the game, and he still only lands on the second, third, fourth, and fifth reels.
The Fantasy Rises To The Top
Aztec's Treasure Feature Guarantee still delivers the 25 free spins to make the perfect nightcap. Still, it goes beyond the call of duty with a resounding progressive jackpot that spawned the Feature Guaranteed version in the first place. The Feature Guarantee sill has the progressive jackpot meter to mark your progress.