Live Dealer
Slots Room Casino quickly distinguishes itself from new online casinos by featuring a live dealer. Unlike other online casinos, Slots Room Casino proudly proclaims that it has a live dealer should the Slots Room Casino need arise for you to take your table game affairs to the next level.
Before Diving deeper into the live dealer, this might be the perfect time to rehash that Slots Room Casino delivers the best in table game value. Slots Room Casino offers a soft spot for games like classic blackjack and the multiple blackjack variations when it comes to the table games. Some of the blackjack siblings available at Slots Room Casino include Vegas-style blackjack and Atlantic City blackjack.
Classic blackjack is on the docket for live dealer play, along with American and European Roulette. If you can't get enough of blackjack, Slots Room Casino provides an outlet for baccarat, a more refined and exquisite blackjack game.
The Advantages Of Live Dealer Play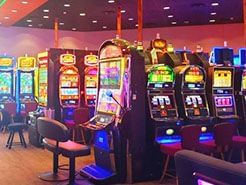 There are many advantages to live dealer play. The first advantage is that you are in the presence due to a live streaming camera of a lovely hostess. It is always pleasant and charming to have a beautiful hostess dealing for you. The live dealer mode at Slots Room Casino lets players talk and chat with the live dealer as they play the game. Likewise, you can chat with other players at the table. Slots Room Casino also gives the player the power to check the gambling history so they can measure their path or rate of success.
When you are ready to embrace the Slots Room live dealer play, you must log in to your account and choose live dealer play. The next move is to select your table, but please keep in mind that these tables fill up quickly, so don't wait too long!
While the live dealer play incurs many promotions, Slots Room Casino doesn't appear to offer promotions at this time for live dealer play. The bulk of its promotions are geared towards the slot games. Please check back often to find if the situation has changed for the live dealer play. You won't also be able to win any progressive jackpots playing the live dealer.
The ultimate perk and advantage for live dealer play are that it is available for desktop and mobile platforms, so there is no excuse for you to pass up the lovely hostesses.